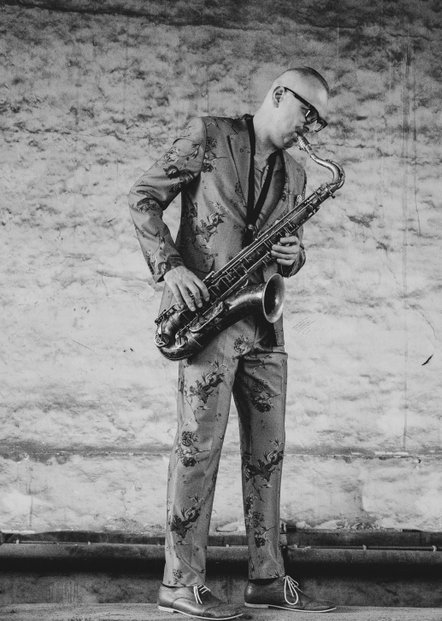 In 2006 he backed up Dave Barker (JAM) for a show with the ska-reggae band The Continentals, in 2006 and 2007 he toured in France with the Bordeaux based rhythm & blues band Mudzilla, in 2007 and 2008 he toured in Ireland with Holland's best guitar player Arthur Ebeling, in 2007 he played with the Boyd Small Band (USA) in Denmark, in 2009 tll now he played as substitute sax player several gigs with the Rotterdam Ska Jazz Foundation (NL), Mdungu (NL), The Beatbusters (NL) , Rilan and the Bombadiers (NL) Laura Vane & The Vipertones (UK\NL) The Rootsriders, Meta & The Cornerstones (USA) Kai Strauss Band (D), JJ Thames (USA), Fats Domino Tribute (NL), Sax Gordon (USA), Lee Perry (Jamaica), Addis Pablo (Jamaica), Denise Gordon (UK) , Nico Wayne Toussaint (France) , Pee Wee Ellis (USA), Georgina Peach & The Savoys (NL) , Mr.Boogie Woogie (NL), Fats Domino Tribute (NL), Chef'Special (NL), Victor Rice (USA) and many many more!
With his Jumpjazzz band JZZZZZP he recorded 2 CD's (Vledderbop 2001 and Swinin' All Day 2008) and one DVD (Live @ Audiomaniacs 2005), and toured countrie's like Netherlands, Belgium, Germany, Switzerland and Denmark.
In 2007, 2008 and 2011 he brought over one of his biggest hero's 'King of the Honkers' Big Jay McNeely to Europe, this resulted in much talked-about performances such as during the Haarlem Jazzfestival, Jazzfestival, Ascona (CH) and live CD "Big Jay meets JZZZZZP LIVE!) and on the television show Vrije Geluiden (VPRO).
In 2008 he joined hip hop \ reggae star Postman for his CD recording and 4 sold out gigs in Het Sportpaleis, Antwerpen (B) and Gelredome, Arnhem (support act for Anouk), in 2013 he did a CD recording Postmen, followed up by a sold out show in Paradiso Amsterdam, wich was later broadcasted on national TV (Veronica)
From 2009 tll 2017 he played in the Soul-Funk band THE SOULSNATCHERS (made 3 CD's) and toured the UK, Spain, Germany and Turkey.
Together with voilin player Jelle van Tongeren he started the jazz-comedy act The Busquitos in 2009, made 5 cd's and toured all over Europe, Asia and Russia (120 shows a year), with this band he won several international prices.

In the 2019 The Busquitos did a show together with legendary saxophonist Pee Wee Ellis (o.a James Brown \ JB Horns \ Van Morrison ) at the Fringe Festival in Frome (UK).
From 2010 tll 2022 Tommy toured around the world with the legendary The Toasters (USA), in 2012 he did a 2 month world tour with The Toasters (USA, Hawaii, Australia, Indonesia and China).
In 2016 he was asked for a tour with an all-star ska big band , Western Standard Time (USA) (with members from Hepcat, The Aggrolites, Brain Setzer Orchestra)
In 2009 he has released his long- awaited solo record "Sunrise" on which Tommy is assisted by members of The Highnotes with guest performances of a.o. Rico Rodriguez, Ernest Ranglin and Winston Francis, followed by his second solo album "Cool Down" in 2012, 2019 "Back On track" with German all-star reggae band The Clerks!
In 2022 he started a jazzduo with guitar maestro Jeen Rabs called Tommy & James.
Beside live performance's, Tommy did a lot of studio work (seeDiscography) , is a saxophone teacher (since 1997)www.saxofoonlesinhaarlem.nl and www.onlinesaxofoonles.nl , and runs his own booking agency Dynamite Bookings (since 2001) www.dynamite-bookings.com